Bridgestone Wins Product Excellence Award and CSR & ESG Leadership Award at the 15th Global CSR & ESG Summit & Awards 2023
• Bridgestone China, Asia Pacific Clinched Two Awards at the 15th Annual Global CSR & ESG Awards (2023)
• More than 230 nominations were competing in 19 award categories, including the Product Innovation and Excellence Award and CSR & ESG Leadership Award.
Singapore (August 30, 2023) — Bridgestone China, Asia Pacific (BSCAP), a subsidiary of Bridgestone Corporation, a global leader in sustainable mobility solutions, has picked up two awards at the prestigious 15th Annual Global CSR & ESG Summit & Awards 2023™ for adopting more sustainable practices through transformational CSR & ESG strategies. These awards included a Platinum for Product Excellence Award and a Silver for CSR & ESG Leadership Award featuring the launch of BSCAP's electric vehicle tyre, the TURANZA T005 EV, and disaster responses & relief efforts across the Asia Pacific region.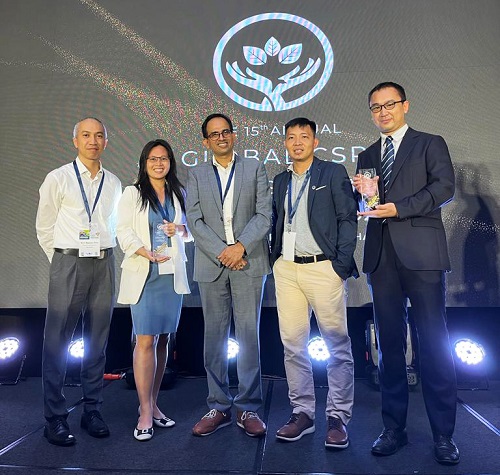 The Bridgestone China, Asia Pacific Sustainability team along with representatives from Bridgestone China and Bridgestone Vietnam
The recognition marks an important milestone in the Bridgestone E8 Commitment of becoming a sustainable solutions company for both customers and communities. The TURANZA T005 EV tyre spotlights BSCAP's pursuit of advancing innovation of sustainable tyre technologies and mobility solutions. By working closely with regional local partners in disaster relief and response efforts, BSCAP's sustainable initiatives and technological advancements help to develop sustainable, long-term initiatives that deliver impact.
"We are delighted to have won the Product Excellence Award and CSR & ESG Leadership Award at the Global CSR & ESG Summit & Awards 2023™. These mark the 13th and 14th awards BSCAP has clinched at this prestigious event for six consecutive years since 2018. The breakthrough innovations in achieving sustainable manufacturing across Asia is a testament to the hard work and commitment towards addressing climate and other environmental threats to our planet, as well as the communities they impact. Through the Bridgestone E8 Commitment, we'll continue to advance mobility solutions and meet the changing needs of society," said Yasuhiro Morita, CEO, BSCAP.
The 15th Annual Global CSR & ESG Summit & Awards 2023™ is recognised as Asia's most prestigious recognition awards programme for Corporate Social Responsibility and Environmental, Social, and Corporate Governance. The programme spotlights and honours companies for their commitment to incorporating ethical values, compliance with legal requirements, and respect for individuals, communities and the environment in the way they do business. This year, more than 230 submissions vied for the top awards in 19 categories.
Some of BSCAP's key accomplishments in these areas include:
The Turanza T005 EV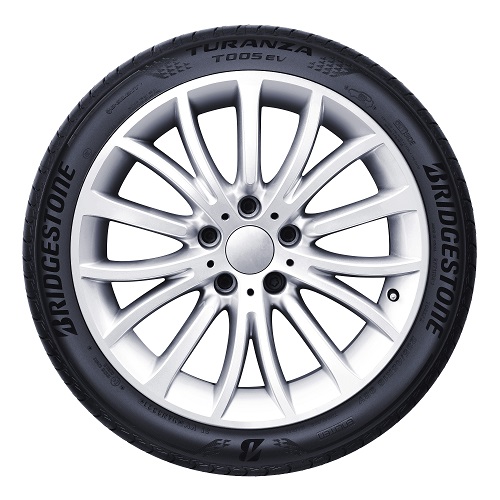 BSCAP's first bespoke electric vehicle tyre, the TURANZA T005 EV, uses three core innovative technologies, ENLITEN, B-SILENT, and LUXBLACK, to create an environmentally friendly, intelligent and comfortable driving experience for Electric Vehicle owners.
ENLITEN taps on technology to create a lighter weight tyre through reduced tread compound, which addresses the vital issue of lowering the Rolling Resistance Coefficient (RRC). This combination of ENLITEN and other product features extends tyre life and improves fuel efficiency by 5 to 15% in an ICE car. When applied to an EV tyre, ENLITEN significantly increases battery efficiency, reducing energy consumption needed for re-charging while addressing consumer "range anxiety".
B-SILENT technology supports an essential feature of the EV driving experience, the almost noiseless cabin environment, as well as contributing to lower urban noise pollution.
LUXBLACK's precision processing technology creates a 3-dimensional sidewall surface, increasing light absorption via the concave-convex pattern.
Bridgestone Indonesia's Search & Rescue Team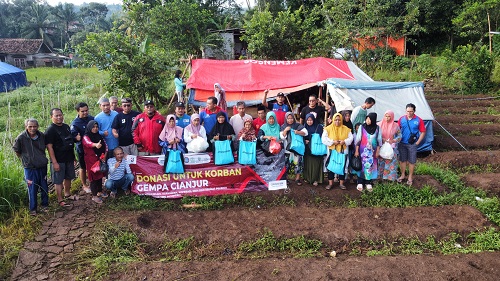 In 2022, the team responded to earthquakes in Pandeglang, Banten and Cianjur by going into disaster-struck areas to deliver supplies and support national rescue efforts.
Disaster Preparedness & Mitigation in Vietnam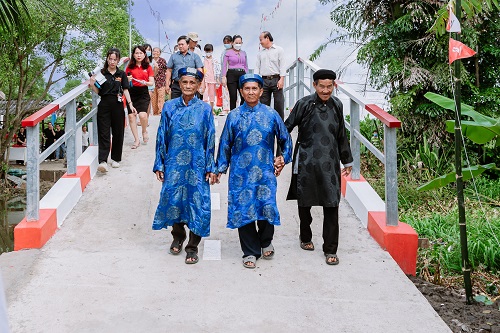 In response to these annual disasters, the "Bridge to Knowledge" programme, building or rehabilitating bridges, completed its 7th and 8th projects in 2022 in the Mekong Delta and Thanh Hoa and in June this year added its 9th in Gia Lai.
Among other recent examples are the Kenh Thay Tam Bridge in Can Tho rebuilt in partnership with a Bridgestone dealer and local cement company. Its 36m span now carries more than 2,000 students and villagers daily. In Son La province, the Long Khoang Bridge can take trucks up to 10 tons making a huge difference to local agricultural and forestry industries. Bridgestone Vietnam's goal is to complete at least 20 bridges by 2030.
---
About Bridgestone Corporation:
Bridgestone is a global leader in tires and rubber building on its expertise to provide solutions for safe and sustainable mobility. Headquartered in Tokyo, the company employs approximately 130,000 people globally and conducts business in more than 150 countries and territories worldwide. Bridgestone offers a diverse product portfolio of premium tires and advanced solutions backed by innovative technologies, improving the way people around the world move, live, work and play.
The regional office Bridgestone Asia Pacific Pte. Ltd. In Singapore oversees the operations of tyre production and sales facilities, and supplies its products to more than 20 countries in the region. Bridgestone Asia Pacific Pte. Ltd. and its subsidiaries across the region offers a diverse portfolio of original equipment and replacement tyres, tyre-centric solutions and mobility solutions that deliver social value and customer value. Guided by its corporate commitment "Bridgestone E8 Commitment", Bridgestone is dedicated to shaping a sustainable future of mobility and improving the way people move, live, work and play.