Bridgestone Wins Best Environmental Excellence Award and CSR Leadership Award
• Bridgestone Asia Pacific Clinched Two Awards at the 14th Annual Global CSR Awards (2022).
• This is Bridgestone Asia Pacific's 5th consecutive year winning the Global CSR Awards.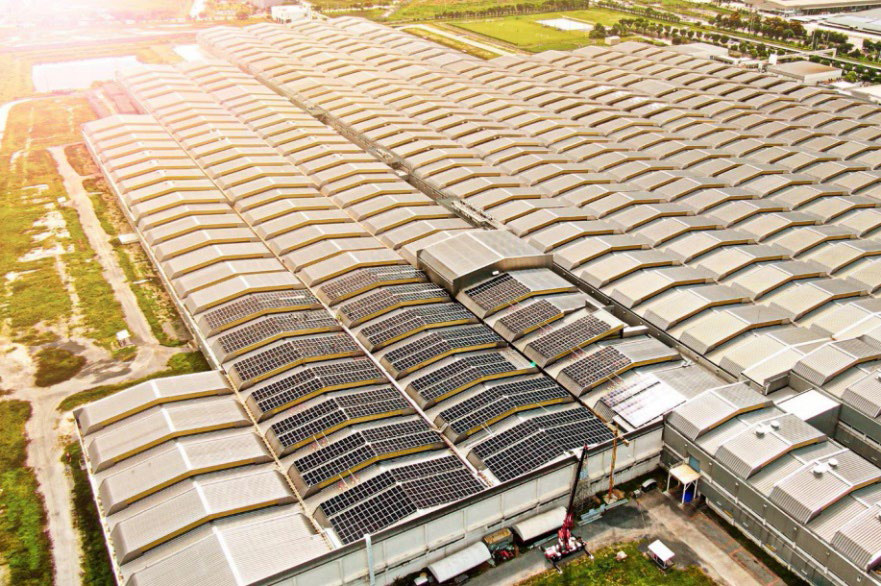 Bridgestone Thailand's Chonburi plant comprises 2,160 newly installed photovoltaic panels, which supply 1 MW of solar power annually
Singapore (December 15, 2022) — Bridgestone Asia Pacific, a subsidiary of Bridgestone Corporation, a global leader in sustainable mobility solutions, has picked up two awards at the prestigious Global CSR & ESG Summit & Awards 2022™ for its efforts towards adopting more sustainable practices through evidence-based, actionable plans, and employee-led initiatives.
Over 350 submissions vied for the top awards in 20 categories. Bridgestone Asia Pacific clinched two Golds in the Best Environmental Excellence Award and CSR & ESG Leadership Award Categories, respectively.
"We are delighted to have won the Best Environmental Excellence and CSR Leadership Award at the Global CSR & ESG Summit & Awards 2022™ in recognition of breakthrough innovations in achieving sustainable manufacturing across Asia. The recognition is a testament of all the hard work that's gone into advancing the Bridgestone E8 Commitment, even as we continue to drive social and customer value as a sustainable solutions company," said Yoshikazu Shida, CEO, Bridgestone China and Asia Pacific.
The Global CSR & ESG Summit & Awards 2022™ is recognised as Asia's most prestigious recognition awards programme for Corporate Social Responsibility and ESG. The programme spotlights and honours companies for their commitment to incorporating ethical values, compliance with legal requirements, and respect for individuals, communities and the environment in the way they do business.
"This recognition spotlights Bridgestone's pursuit of sustainability and corporate growth. By working closely with local partners, Bridgestone's sustainability initiatives and technological advancements help to develop long-term initiatives that deliver impact", said Sreepadaraj Karanam, VP, Sustainability & CSR, Bridgestone China Asia Pacific.
Some of Bridgestone's key accomplishments in these areas include:
Harnessing Solar Power in Asia to Reach Carbon Neutrality Goals
For Bridgestone to successfully transition towards self-sufficiency and achieve our carbon neutrality goal by 2050, we are undertaking the following critical steps:
• Deploying in-house renewable projects, such as implementing rooftop solar panels
• Purchasing Renewable Energy Certificates (REC)
• Developing Power Purchasing Agreements (PPA) with utility and energy companies
Bridgestone has begun installing solar panels across Bridgestone plants in Asia. The Group aims to reduce absolute CO2 emissions by 50% by 2030 and has set an interim goal of lowering carbon emissions by 30% or more by 2023.
Conserving Natural Landscapes, Habitats and Waterways
In 2020, Thailand experienced its worst drought in 40 years, resulting in the water supply in the mountains becoming increasingly scarce, threatening the area's natural biodiversity. To address the water scarcity crisis, Bridgestone Thailand's 'Water Boy Team' constructed and maintained a steady water supply system that pumps water up the mountain and into the surrounding wildlife sanctuary, exemplifying the 'Ecology' value of the Bridgestone E8 Commitment through their community conservation efforts. By tackling the area's water scarcity challenges, there was an increase in the number and diversity of wildlife at the reserve, with 19 species and 550 animals identified in 2021, up from 15 species and 400 animals in 2018 and 2019.
Additionally, to help mitigate the risks of annual forest fires during the summer, Bridgestone Thailand launched a project in November 2021 in partnership with the Department of Provincial Administration and the Royal Forest Department to support the natural ecosystem and increase humidity in the area through reforestation.
Road Safety Outreach
Bridgestone launched road safety initiatives across the region to drive home the importance of road safety and instil road safety habits in youths, contributing to a safer society.*
*More details on Road Safety Initiatives across the region:
Vietnam
In 2019, Bridgestone Vietnam launched its Safety For Kids campaign to educate primary school children in Hanoi and Ho Chi Minh on traffic laws. With local tyre dealer Xuan Tung, Bridgestone Tire Sales Vietnam LLC conducted road safety training sessions with local high schools and distributed 900 safety helmets to students.
Thailand
Bridgestone Thailand partnered with the AIP Foundation to conduct road safety training in four Schools, reaching a total of 5,180 community members. Infrastructure improvements at one school zone benefitted 5,500 students and community members and raised the school's International Road Assessment Programme (iRAP) rating from 3 to 5 stars.
China
In 2021, Bridgestone China partnered with Safe Kids China to implement Bridgestone's local Road Safety Programme, whose curriculum reached 780 students, as of April 2022. Infrastructure improvement projects included two zebra crossings and a pedestrian area.
Australia and New Zealand
Bridgestone supported the RYDA road safety education program in collaboration with schools to integrate road safety education within the regular school curriculum to support and amplify the core messages and safety behaviours.
Indonesia
Bridgestone Indonesia integrated Bridgestone's Road Safety and Tyre Safety Training into Bridgestone's Sustainability curriculum, for visiting PHD students from IB University.
Singapore
Bridgestone is working closely with EduTorque, a leading provider of motorsports education, to cultivate road safety awareness in motorsports amongst youth. Such partnerships align with Bridgestone E8 Commitment of 'Ease' and 'Empowerment' by providing excellent performance, quality products and tackling road safety challenges.
Korea
In collaboration with the Yellow Society, Bridgestone distributed 5000 Road Safety Kits to children through 44 day-care centres nationwide, dealer shops, and end-users. The Road Safety Kits consisted of a Road Safety training manual and yellow reflectors.
---
About Bridgestone Corporation:
Bridgestone is a global leader in tires and rubber building on its expertise to provide solutions for safe and sustainable mobility. Headquartered in Tokyo, the company employs approximately 130,000 people globally and conducts business in more than 150 countries and territories worldwide. Bridgestone offers a diverse product portfolio of premium tires and advanced solutions backed by innovative technologies, improving the way people around the world move, live, work and play.