Bridgestone Asia Pacific wins Platinum Award for CSR Leadership and Gold Award for Best Community Programme at the Global CSR Awards 2021
• Bridgestone Asia Pacific Clinched Two Awards at the 13th Annual Global CSR Awards (2021)
• This is Bridgestone Asia Pacific's 4th consecutive year winning the Global CSR Awards
• The awards reinforce Bridgestone's Global CSR commitment, Our Way to Serve
Singapore (November 16, 2021) — Bridgestone Asia Pacific, a subsidiary of Bridgestone Corporation, a global leader in sustainable mobility solutions, has won two awards at the 13th Annual Global CSR Awards 2021.
Over 350 submissions were received from over 100 companies. Fifty companies were shortlisted for the top awards in 16 categories. Bridgestone Asia Pacific clinched the highest tier Platinum Award for CSR Leadership for its various ongoing initiatives to provide aid in communities struck by natural disasters and affected by COVID-19.
Bridgestone Australia and New Zealand, a group company of Bridgestone Asia Pacific, also won the Gold Award for Best Community Programme for its community sports and outreach initiatives. These initiatives include activities for children and aspiring athletes to learn from Olympic and Paralympic athletes, and road safety outreach programmes.
"We are extremely honoured to be presented with these accolades. Our commitment towards improving the way people move, live, work and play is an integral part of Bridgestone's mission and culture. Winning the Gold and Platinum award for CSR Leadership and Best Community Programme respectively reaffirms our commitment towards creating a safer, fairer, agile and sustainable world for our future generations. While we are dedicated to COVID-19 relief efforts in the region, we must not forget to extend our resources toward helping victims of natural disasters. We hope to contribute further to CSR and community building in the years ahead," said Sreepadaraj Karanam, Vice President, Sustainability and CSR.
This is the fourth consecutive year that Bridgestone Asia Pacific and its group companies are being recognised for its CSR initiatives at the Global CSR Awards organised by The Pinnacle Group International. The Global CSR Awards is one of Asia's most prominent CSR Awards that recognises innovative and outstanding CSR programmes that demonstrate the company's leadership and commitment towards being ethical and respectful towards individuals, communities and environment in the way they do business. The entries are considered by a panel of judges made up of internationally recognised professionals from various industries and disciplines that were selected to ensure a fair and objective review process.
Overview of our CSR initiatives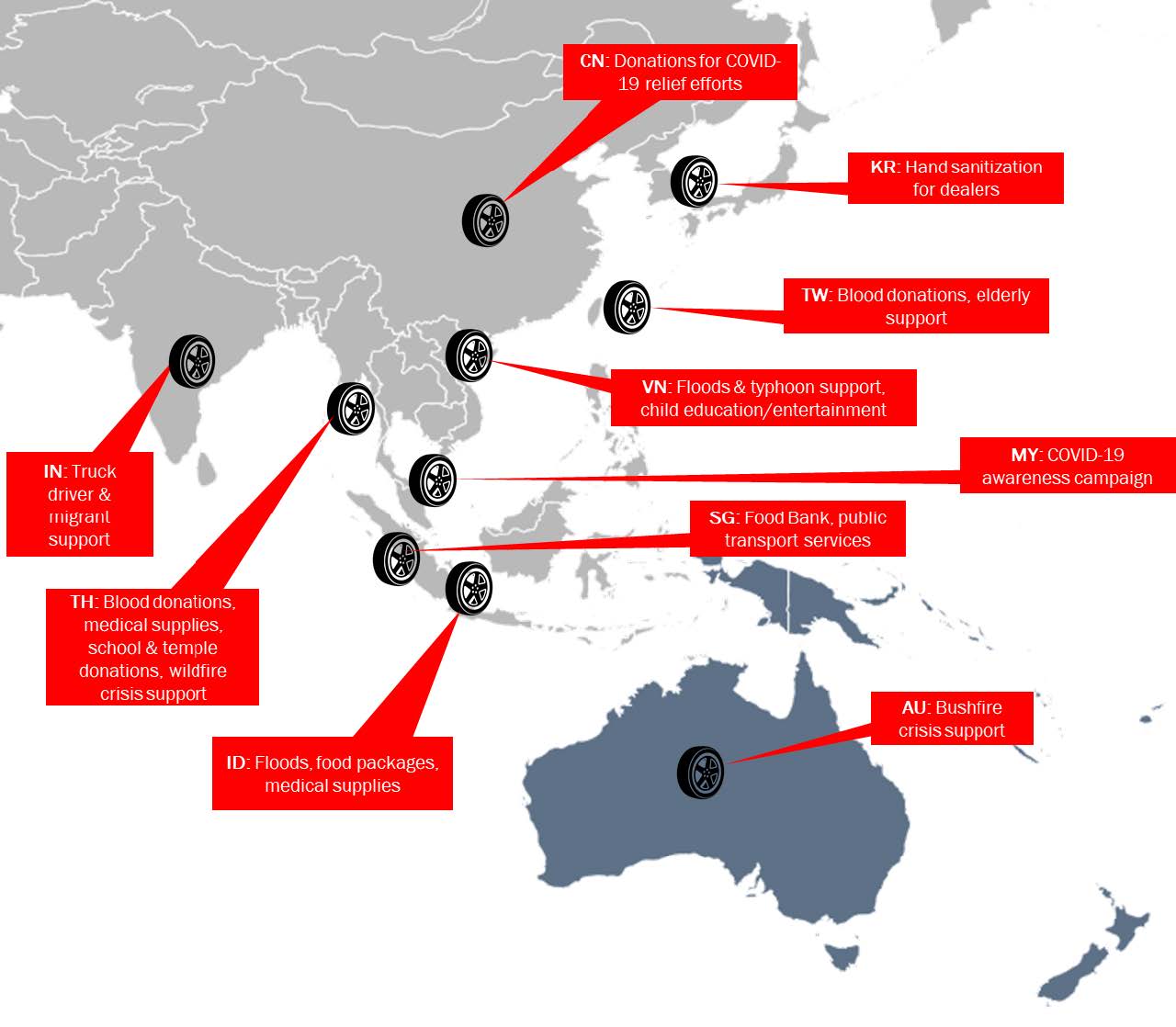 Snapshot of Bridgestone's crisis support in APAC in 2020
COVID-19 and Natural Disaster relief
In 2020, the pandemic was not the only crisis on hand, natural disasters continued to ravage countries all over the world. Many of these disasters took place during the COVID-19 pandemic, resulting in a tenuous balance between relief and pandemic protection measures.
Bridgestone considered the different geographies within the APAC region, and extended support to include blood donations, natural disaster relief, supplies for the needy, and entertainment for young children in lockdown situations.
Aid for communities affected by natural disasters
- Flood victims in Indonesia's Bekasi and Karawang areas were provided with essential groceries, medicine, supplies and neighbourhood clean-up support.
- 400 families in Vietnam's Quang Binh and Quang Tri provinces affected by Typhoon Molave and flood were provided with essential kitchen supplies and jackets.
- Bridgestone donated AUD 300,000 (USD 232,000) to support the recovery of communities devastated by the bushfires and individuals who have lost their family members through fire-fighting, as well as treatment for animals and wildlife.
- To combat the worst forest fires in Thailand, Dueler tyres were given to fire fighting vehicles. Over 5,000 food packages were donated to a wildlife sanctuary and plant conservatory.
COVID-19 relief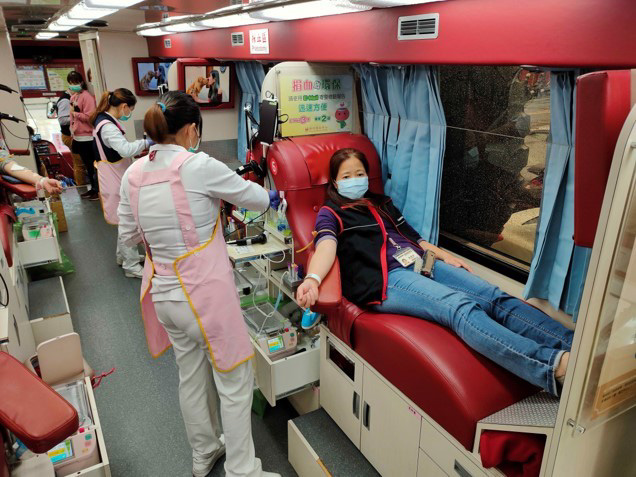 Teammates from Bridgestone Taiwan donating blood
- Due to the shortage of blood supplies, nearly 500 Bridgestone employee donors in Thailand and Taiwan contributed 213,250cc of blood to support COVID-19 patients.
- Bridgestone Taiwan partnered Huashan Foundation to help elderly living alone in Taiwan to clean their houses. Hygiene packages were given out to prevent the spread of COVID-19.
- Bridgestone Singapore worked together with Singapore's largest public transport operator, SBS, to provide fleet support and 24/7 breakdown support.
- Bridgestone India partnered with Rotary Club and Samaan Social Development Society to provide 165,000 meals to 20,000 migrant families affected by COVID-19 in India. Emergency survival kits were given to 9,500 stranded truck drivers and 10,000 Personal Protective Equipment (PPE) were given to hospitals.
- Bridgestone Indonesia distributed 45 litres of hand soap and food packages and conducted fogging activities (pesticide control) in local villages in Indonesia.
- Bridgestone Singapore employees raised funds and donated food supplies to Food Bank Singapore. They helped to deliver some 775,000 meals to families facing food insecurity due to COVID-19 related job losses and pay cuts.
- Bridgestone Vietnam donated USD6,500 to help nationwide COVID-19 relief efforts and produced 20,000 colouring books for children at home during the lockdown. Road safety workshops and helmets were given to 900 school children when restrictions were relaxed.
- Bridgestone Thailand employees clocked 28,186km in a virtual charity run, and raised USD 3,171 for neighbouring hospitals and a school. Bridgestone also donated USD 67,000 to hospitals across the country and vaccine researchers at Chulalongkorn University.
- Bridgestone Indonesia donated personal protective equipment such as hazmat suits, googles, masks, gloves and boots for frontline workers facing shortages in equipment.
- Bridgestone China and Bridgestone Japan donated USD 430,000 to China Charity Federation and other charity organizations to assist with COVID-19 supply shortages. The donations were used to purchase medical supplies, provide pensions to front line staff. Over 100,000 masks were also distributed to Bridgestone customers.
Community Programmes in Australia & New Zealand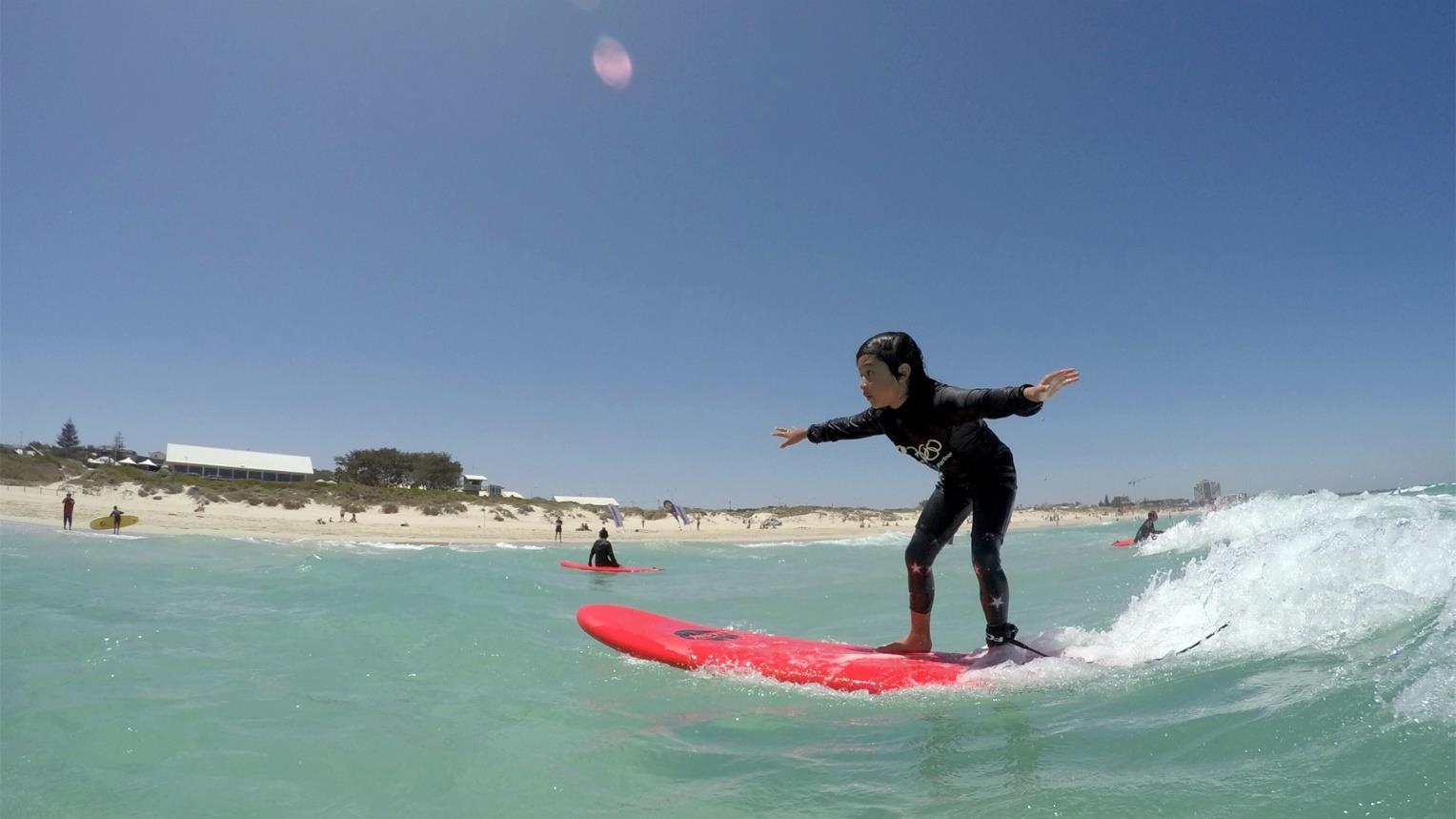 Young surfer in Perth enjoying a surf lesson facilitated by Bridgestone in partnership with an Olympic athlete
Olympic and Paralympic athletes inspire and rally fans and communities around the world through their determination and their diverse backgrounds. This unique power that accompanies the pursuit of our goals, resonate deeply with us as a company. Moreover, sports have profound benefits to both physical and mental health.
Through Bridgestone's community outreach and engagement programmes, we hope to drive the message that everyone has the power to shape the future of the people around them.
- Bridgestone invested AUD 80,000 to refurbish a basketball court in Smith Park, benefitting thousands of residents. NBA basketball player Joe Ingles was also invited to coach kids in the community, inspiring them to chase their dreams.
- Bridgestone organised a tennis workshop led by Paralympic tennis gold medalist Heath Davidson. Aspiring tennis enthusiasts received one-on-one coaching from Heath and were aided to develop strategies to get closer to achieving their goals.
- Bridgestone transformed a former manufacturing site into a 400-metre state-of-the-art athletics track made with 50 tonnes of recycled rubber. The $5.3 million-dollar facility aims to benefit the community of aspiring athletes.
- Bridgestone facilitated an inspiring teaching session and surfing (one of Olympics' newest sports) workshop in Perth for 40 aspiring surfers with surfing athlete Connor O'Leary.
- Bridgestone facilitated workshops conducted by national swimming star Ariarne Titmus.
Road Safety Outreach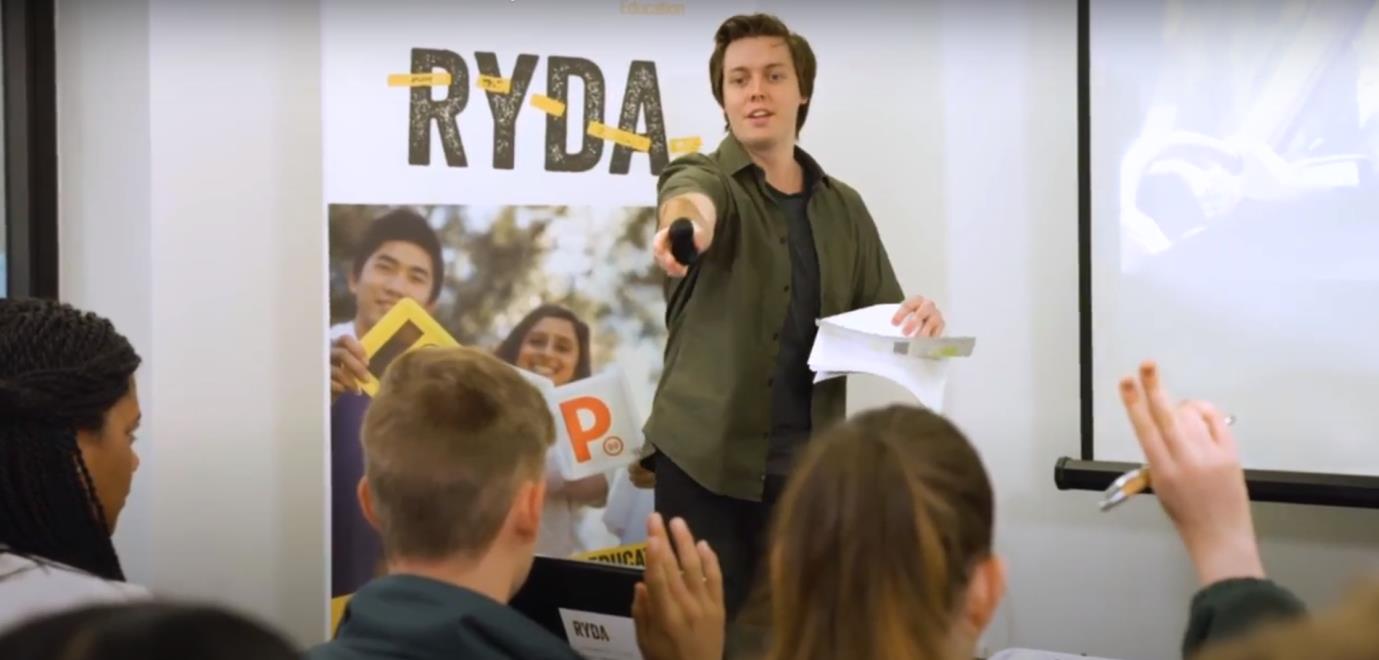 Kids at Nazareth Catholic College undergoing the RYDA Road Safety Programme in partnership with Bridgestone
Halving the number of global deaths and injuries from road traffic accidents is a Sustainable Development Goal Bridgestone strongly identifies with. Promoting road safety education to create safer roads for future generations is at the core of Bridgestone's DNA.
Bridgestone aims to build a healthy, resilient community on how to keep safe during day-to-day routines and activities through longstanding partnerships with road safety education programmes.
- To drive home the importance of road safety, Bridgestone has partnered with RYDA to deliver road safety education programmes. The programmes have benefited some 50,000 students. In 2020, Lincoln High School and Nazareth Catholic College were given the Bridgestone Excellence in Road Safety Education award.
- Truck driver Matthew Georga was given the Bridgestone Bandag Guardian award, for saving a woman's life when she suffered a medical episode while driving. He administered CPR until emergency services arrived. The award honours professional truck drivers who perform heroic, selfless acts in the line of duty.
---
About Bridgestone Corporation:
Bridgestone Corporation, headquartered in Tokyo, is a global leader providing sustainable mobility and advanced solutions. Bridgestone offers a diverse portfolio of original equipment and replacement tyres, tyre-centric solutions, mobility solutions, and other rubber-associated and diversified products that deliver social value and customer value. Its products are sold in over 150 nations and territories around the world.
In the Asia Pacific region, Bridgestone locates its regional headquarters in Singapore, overseeing the operations of tyre production and sales facilities, as well as supplying its products across more than 20 over countries in the region. Bridgestone Asia Pacific Pte. Ltd. plays a key role in facilitating this large and growing market as it contributes significantly to the entire Bridgestone Group.