Bridgestone Indonesia and Soles4Souls Asia Join Forces to Turn Recycled Tires into Shoes
• This World Environment Day, Bridgestone Indonesia and Soles4Souls Asia embark on a new partnership to turn recycled tires into shoes
• The partnership aims to convert 40,000 tires into ~400,000 pairs of shoes by the end of 2022
• Bridgestone Indonesia has pledged $60,000 to assist Soles4Souls Asia in their global relief efforts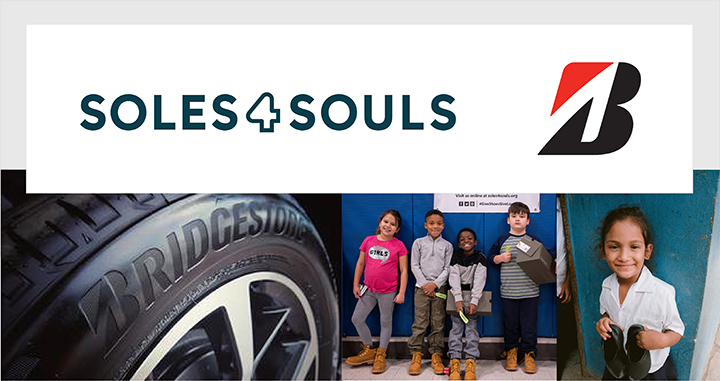 INDONESIA (June 4, 2020) — Global non-profit organization, Soles4Souls Asia, Ltd (Sole4Souls Asia) and PT Bridgestone Tire Indonesia (Bridgestone Indonesia), a group company of Bridgestone Corporation, the world's largest tire & rubber company, today announced a new 2 year partnership (2020 – 2022) for an exciting sustainable project to create new shoes out of recycled tires. The partnership will be set in motion on June 5 in celebration of World Environment Day, serving as an important reminder for the world to address pressing environmental concerns and work collectively toward a sustainable society.
Bridgestone Indonesia and Soles4Souls Asia will work with partners to manufacture shoes that will be distributed to people in need around the world and/or sold through various outlets. The goal is to convert 40,000 tires into ~400,000 pairs of shoes by the end of 2022, diverting these end-of-life tires from landfills and putting them to good use. The partnership will give these Bridgestone tires a new lease of life as soles for shoes, helping drive toward a circular economy that eliminates waste through the continual use of resources. Additionally, Bridgestone Indonesia is donating $60,000 to assist Soles4Souls Asia in their global relief efforts to expand the project.
"From the beginning of this partnership, Bridgestone Indonesia has been committed to both finding the most sustainable way to use their products and be able to do the most good with it," said Buddy Teaster, President and CEO of Soles4Souls Asia. "It is our great pleasure to partner with Bridgestone Indonesia who shares our passion for helping the environment and other like-minded partners to manufacture and put shoes on the feet of people who need them most."
"On this World Environment Day, we are delighted to announce our collaboration with Soles4Souls Asia, which was born out of a shared vision of advancing an environmentally sustainable society by supporting a truly circular economy – values underpinned by Bridgestone's Global CSR commitment, 'Our Way to Serve'. We hope this initiative can contribute towards reducing tire waste and our carbon footprint, while also supporting the needy in our communities," said Mukiat Sutikno, Managing Director of PT Bridgestone Tire Indonesia.
To kickstart the partnership, Bridgestone Indonesia and Soles4Souls Asia will be working with Indosole, a sustainable shoe brand and certified B corporation, that will manufacture the shoes in their factories in Indonesia and sell them both online and in stores across the world. For every pair of shoes sold by Indosole, a portion will be donated back to Soles4Souls Asia to further the work of distributing new shoes to people in need across Asia.
For more information on the partnership or how to get involved with Bridgestone Indonesia and Soles4Souls Asia, email corporate@soles4souls.org.
---
About Bridgestone Indonesia:
PT Bridgestone Tire Indonesia (Bridgestone Indonesia) is a group company of Bridgestone Corporation. Its factories are located in two locations, Bekasi and Karawang. In addition to production facilities, Bridgestone Indonesia also has a Proving Ground and Education Center in order to improve the quality of products and service for our customers. Products of Bridgestone Indonesia are sold through distributors and its Authorized Outlets which are Toko Model/TOMO, Bridgestone One Stop Service (BOSS), Bridgestone Truck Tire Center (BTTC) and also more than 1,500 stores that sell Bridgestone tires all across Indonesia.
In the Asia Pacific region, Bridgestone locates its regional headquarters in Singapore, overseeing the operations of tyre production and sales facilities, as well as supplying its products across more than 20 over countries in the region. Bridgestone Asia Pacific plays a key role in facilitating this large and growing market as it contributes significantly to the entire Bridgestone Group.

About Soles4Souls Asia:
Soles4Souls Asia, a division of Soles4Souls, Inc., turns unwanted shoes and clothing into opportunity by keeping them from going to waste and putting them to good use: providing relief, creating jobs and empowering people to break the cycle of poverty. The organization repurposes product to supply its micro-enterprise, disaster relief, and direct assistance programs. With locations and warehouses across three continents, Soles4Souls has been able to distribute more than 40 million pairs of shoes in 129 countries since 2006. Visit soles4souls.org for more information.