Bridgestone China & Asia Pacific Scores 3 Awards at the Global CSR Awards for the Second Consecutive Year
Singapore (April 10, 2019) – Bridgestone China & Asia Pacific (BSCAP), a group company of Bridgestone Corporation, won 3 awards at the 11th Annual Global CSR Summit & Awards 2019, in recognition of its far-reaching achievements in making roads safer, improving lives and promoting education in the communities in which it operates.

Held in Kuching, Sarawak, Malaysia, the award ceremony on 4 April gathered industry leaders and honoured them for their outstanding and innovative community programs. This year, Bridgestone India Private Ltd (Bridgestone India) was awarded Gold for 'CSR Leadership Award' for a series of on-going initiatives that focus on making roads safer, uplifting local communities through education and skills development as well as water conservation. Bridgestone (China) Investment Co., Ltd. (Bridgestone China) also took home Gold in 'Excellence in Provision of Literacy and Education Award' for their 'Happy Tangram' program, China's first program that places emphasis on stimulating creativity and life skills among rural children. In addition, Thai Bridgestone Co., Ltd. (Thai Bridgestone) also won Silver for 'Best Community Program Award' for their long-standing community program called 'Bridgestone Rak Baan Kerd' that focuses on improving the health and well-being of the local people in Thailand.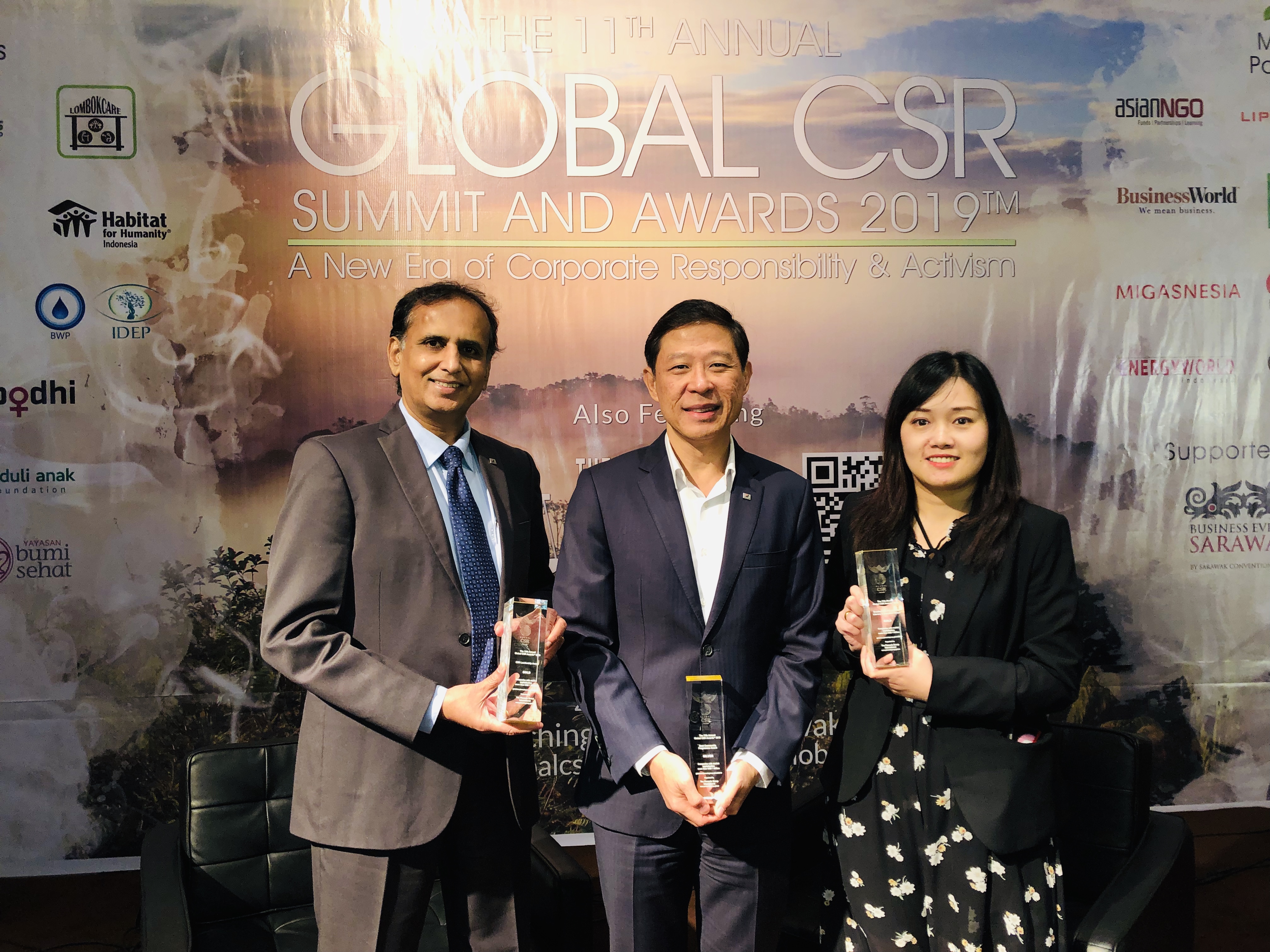 Image 1: Global CSR Award Ceremony
(From left to right) Ajay Sevekari, Director of Quality Management Systems, Bridgestone India, Paul Choo, VP of HR & CSR, BSCAP, Tian Huiye, CSR Activities PR Executive, Bridgestone China
Deemed one of Asia's most prestigious Corporate Social Responsibility awards, this was the second consecutive year that Bridgestone was recognised for its efforts in CSR at the Global CSR Awards – PT Bridgestone Tire Indonesia, a group company of BSCAP, received 3 awards last year for their Muara Gembong mangrove reforestation efforts, ECOPIA Orangutan rehabilitation initiative and Loka Latihan Keterampilan Bridgestone (LLKBS) residential training program for youths. All entries were evaluated by an independent panel of judges comprising of eminent and senior HR practitioners from various organisations which include Microsoft Asia Pacific, Kimberly-Clark Corporation and more.
Paul Choo, Vice President of Human Resource & CSR, BSCAP said, "We are honoured and proud to be recognised by the 11th Global CSR Awards for the second consecutive year, which reaffirms our global CSR commitment, 'Our Way to Serve', through which we aim to build a better world for our future generations. Through our programs, which we run across the region with the support of our dedicated employees, we hope to continue to build a sustainable future in areas such as job creation, skills improvement and environmental sustainability. As the world's largest tyre and rubber company, we have also embraced the United Nation's Sustainable Development Goals (SDGs) as part of our responsibility to address the social and environmental challenges that impact people's daily lives."
Overview of our winning programs in India, China and Thailand:
Building a better India
Since its establishment 23 years ago, Bridgestone India has implemented various CSR initiatives that address issues faced by local communities in areas of road safety, education as well as water conservation. Running for the 9th year, Bridgestone India's Road Safety Awareness Campaign has reached more than 319,000 road users through road safety awareness and education programs. In addition, Bridgestone India worked closely with the villagers from Sawardari, where it had set up its second factory, to introduce initiatives that improved access to basic infrastructure, medical services and educational opportunities for more than 4,500 villagers. In 2018, Bridgestone India also partnered with FICCI Flo Pune to empower women and encourage them to be self-sufficient through skills development and training programs. With water scarcity an imminent risk facing the world today, Bridgestone India and UNICEF ran the 'Drops of Hope' project – a 3-year initiative which develops robust safety and security plans for clean drinking water, effectively helping over 325,000 people in 111 villagers.

Image 2:Bridgestone India ran a specialised 45-day training program as part of its 'Road Safety Awareness' Campaign to train commercial
Reaching out to China's rural children
Education in China generally focuses on the fundamental subjects of mathematics and science, with little emphasis placed on the child's holistic development. Furthermore, due to the lack of teachers in rural areas, most children do not have access to quality education. To enrich the lives of these rural children, Bridgestone China launched the 'Happy Tangram' program in 2009 – China's first-ever education program that focuses on aesthetic education and stimulating creativity through mediums such as art, music, and physical education. To date, the program has reached more than 11,000 students from 38 primary schools across 10 provinces and is regarded as a robust program sought after by many schools in China today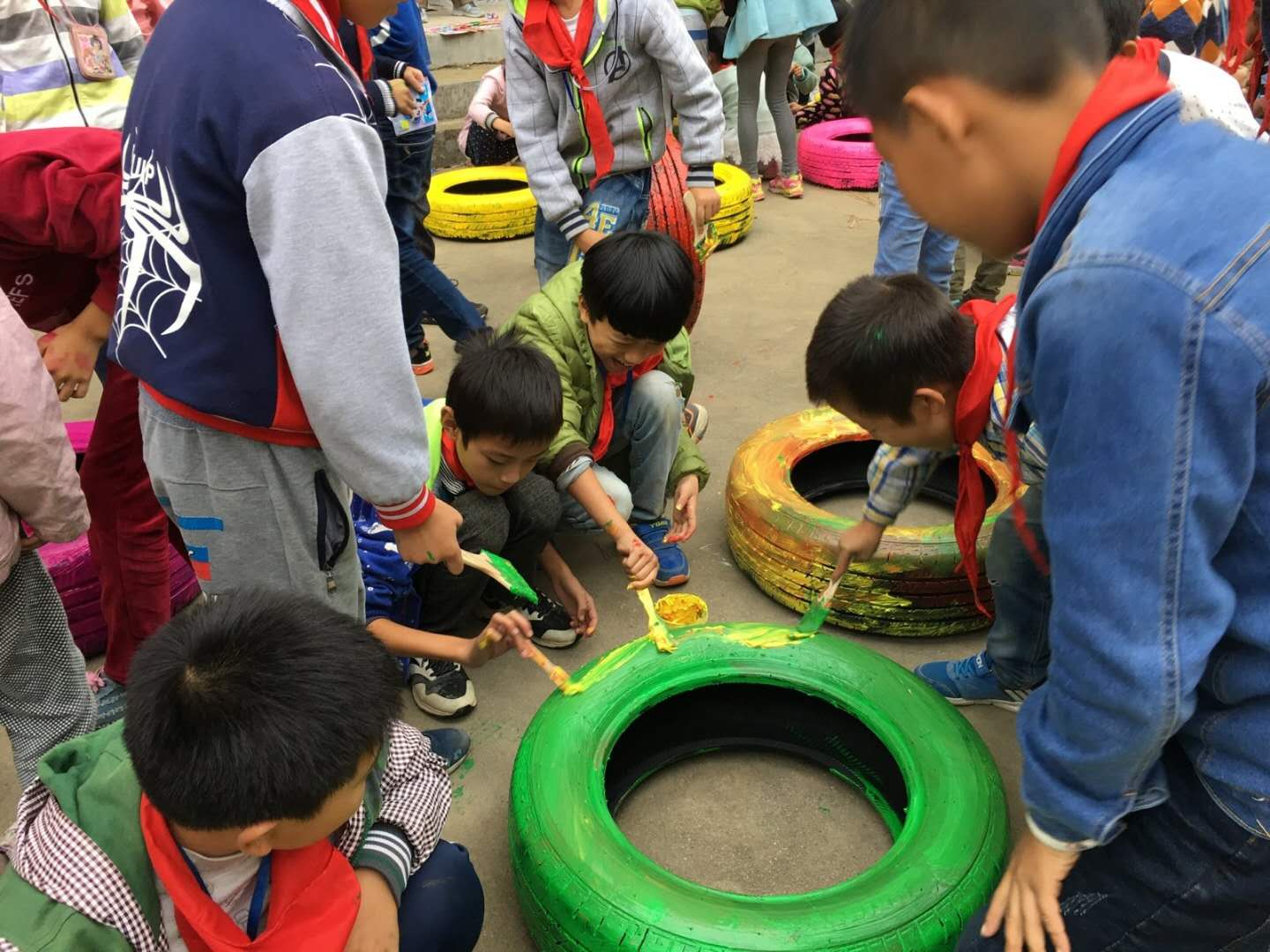 Image 3: China's rural children from the Jiangxi and Guizhou province decorating old tyres to be re-used as flower pots
Uplifting the Thai community
In 2016, Thai Bridgestone chose to launch the Bridgestone 'Rak Baan Kerd' (Bridgestone loves your hometowns) program to support employees in their efforts to actively give back to their communities. With the strong desire to improve the living conditions of local people, several initiatives were implemented. For instance, the program funded the development of groundwater storage tanks and water filter systems in villages which successfully provided close to 23,000 people with a continuous supply of clean, safe water. Other initiatives include the SuaYim program which helped hone the skills and potential of the youth at Thai Bridgestone's very own Science Learning Centre and reforestation efforts of more than 2,000 mangroves in the Klong Khon Mangrove Forest Conservation Centre. To date, the programs have impacted more than 27,000 Thais in the short span of three years.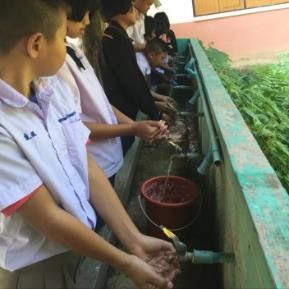 Image 4: Thai Bridgestone's Rak Ban Kerd program - students of Ban So Den Pat Ta Na School enjoying clean water purified by water filter system
About 'Our Way to Serve'
Launched in 2017, "Our Way to Serve" is Bridgestone's redefined global corporate social responsibility (CSR) commitment centred around three priority areas: Mobility, People and Environment. "Our Way to Serve", reflects the company's longstanding philosophy of 'Serving Society with Superior Quality' and is a recognition that the best companies not only perform for their stakeholders, but also contribute to a better world.
About Bridgestone Corporation:
Bridgestone Corporation, headquartered in Tokyo, is the world's largest tyre and rubber company. In addition to tyres for use in a wide variety of applications, it also manufactures a broad range of diversified products, which include industrial rubber and chemical products and sporting goods. Its products are sold in over 150 nations and territories around the world.
In the Asia Pacific region, Bridgestone locates its regional headquarters in Singapore, overseeing the operations of tyre production and sales facilities, as well as supplying its products across more than 25 over countries in the region. Bridgestone Asia Pacific plays a key role in facilitating this large and growing market as it contributes significantly to the entire Bridgestone Group.