Bridgestone Announces Start of Joint Development with Professor Kenji Kawashima from Tokyo Medical and Dental University (TMDU) of a Walking Training Machine to Improve Senior Health
Tokyo (December 14, 2017)-Bridgestone Corporation today announced that it has commenced joint development with Professor Kenji Kawashima from Institute of Biomaterials and Bioengineering, Tokyo Medical and Dental University (TMDU) of a walking training machine meant to contribute to improving the health of senior citizens. The training machine utilizes rubber pneumatic artificial muscles attached to the user to assist walking or apply load and is expected to be used to help senior citizens undergo training to increase their physical strength and ultimately improve their health. A prototype has already been completed, and, in 2018, the development project plans to start verification tests aimed at achieving practical application.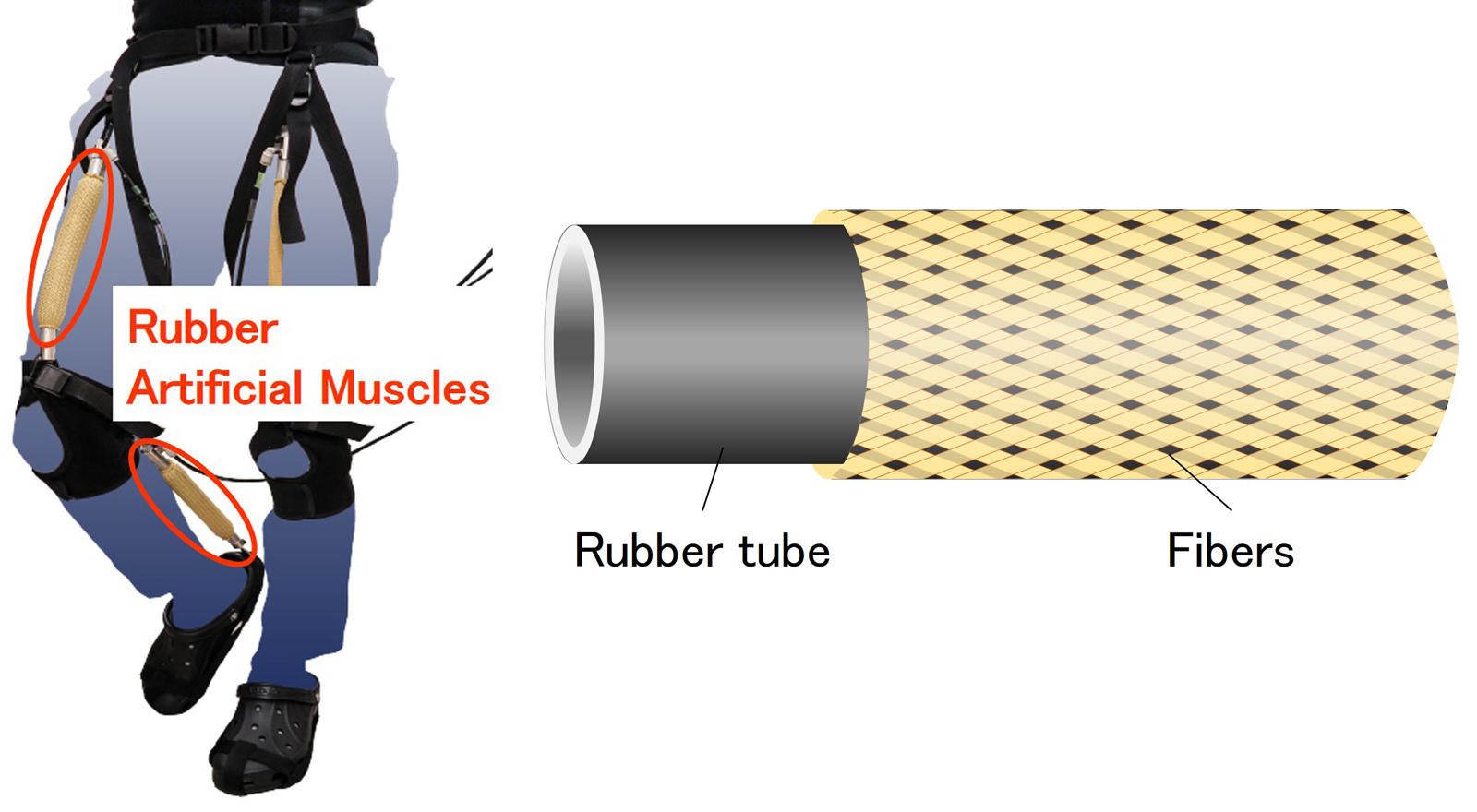 Walking training machine (left) and rubber pneumatic artificial muscles (right)


The work is focused on advancing an endoskeleton type walking training machine which uses the rubber pneumatic artificial muscles created by Bridgestone and the system control technologies developed by Professor Kenji Kawashima from TMDU. The basic concept requires users to attach rubber pneumatic artificial muscles to their bodies to undergo walking training as the artificial muscles assist them and/or apply loads differently while walking.

Rubber pneumatic artificial muscles are a type of McKibben artificial muscle and are comprised of a rubber tube and a cylindrical reinforcement layer made of fibers that wrap around the tube. Changes in air pressure within the rubber tube cause the tubes to contract or expand, mimicking the movement of human muscles. Bridgestone's rubber artificial muscles apply the company's technologies regarding rubber and reinforcing fiber accumulated through the development of tires and hoses. As the rubber artificial muscles are lighter and more flexible than other actuators such as motors, they can help to make a training machine that places less physical burden on the user.

The Bridgestone Group is committed to contribute to the realization of people's active and healthy lifestyle utilizing extensive technologies and business expertise in a variety of fields ranging from tires to rubber products, sporting goods, and bicycles.

---

About Bridgestone Corporation:
Bridgestone Corporation, headquartered in Tokyo, is the world's largest tire and rubber company. In addition to tires for use in a wide variety of applications, it also manufactures a broad range of diversified products, which include industrial rubber and chemical products and sporting goods. Its products are sold in over 150 nations and territories around the world.