Bridgestone Taiwan Celebrates 35th Anniversary
Tokyo (October 10, 2017)-Bridgestone Corporation (Bridgestone) today announced that Bridgestone Taiwan Co., Ltd. celebrated 35th anniversary of its operation with a ceremony held in Taipei on October 3, 2017.

Guests at the ceremony included Mr. Jong-Chin Shen, Minister of Economic Affairs, Mr. Jang-Hwa Leu, Director General of Industrial Development Bureau, and Mr. Chiao-Chang Huang, President of Tai Jung Capital Inc., which is the second largest shareholder of Bridgestone Taiwan, as well as local business partners. Masaaki Tsuya, Member of the Board, CEO and Representative Executive Officer and Kazuhisa Nishigai, Member of the Board, COO and Representative Executive Officer also attended the ceremony. At the ceremony, Tsuya thanked the Bridgestone Taiwan team and key partners for their role in advancing the Bridgestone business in Taiwan while also stating his dedication to contributing to society in the region.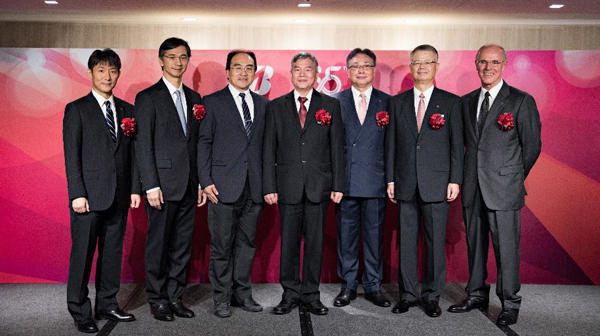 Ceremony held on October 3, 2017

Since 1982, Bridgestone Taiwan has operated according to Bridgestone's corporate philosophy "Serving Society with Superior Quality." In a hope to contribute to safe and secure transportation, Bridgestone Taiwan donated 100 run-flat tires* "DRIVEGUARD" to the police in Hsinchu County where Bridgestone Taiwan is located, as a memorial event for this anniversary.

The Bridgestone Group continues to contribute to the realization of a sustainable society and the resolution of social issues in Taiwan and all other countries and regions. The Group aims to act as a responsible corporate citizen. As an industry leader, the Bridgestone Group has a responsibility for the future. The Group seeks to fulfill this responsibility by leveraging its strengths and specialties, and creating innovation and advanced technologies to help deliver higher levels of comfort as people move, live, work and have fun.

* DRIVEGUARD tires utilize run-flat technology (RFT), which allows users to continue their drive safely up to 80 kilometers (50 miles) at up to 80 kilometers (50 miles) per hour after a puncture or a loss of pressure. Additionally, RFT tires can help reduce the total weight of a vehicle because they eliminate the need for a spare tire.

---
About Bridgestone Corporation:
Bridgestone Corporation, headquartered in Tokyo, is the world's largest tire and rubber company. In addition to tires for use in a wide variety of applications, it also manufactures a broad range of diversified products, which include industrial rubber and chemical products and sporting goods. Its products are sold in over 150 nations and territories around the world