Bridgestone Celebrates 50th Anniversary of Operations in Thailand
Highly evaluated in its environmental initiatives


Tokyo (September 19, 2017) - Bridgestone Corporation (Bridgestone) today announced the 50th anniversary of the Group's operations in Thailand. The milestone was celebrated with a ceremony held in Bangkok on September 18, 2017.

Guests at the ceremony included Dr. Atchaka Sibunruang, Minister of Science and Technology, Mrs. Hirunya Suchinai, Secretary-General of the Thailand Board of Investment, and other Thai government officials as well as local business partners. Masaaki Tsuya, Bridgestone Chief Executive Officer, and Kazuhisa Nishigai, Chief Operating Officer also attended the ceremony. At the ceremony, Tsuya thanked the Bridgestone Thailand team and key partners for their role in advancing the Bridgestone business in Thailand while also stating his dedication to contributing to society in the country.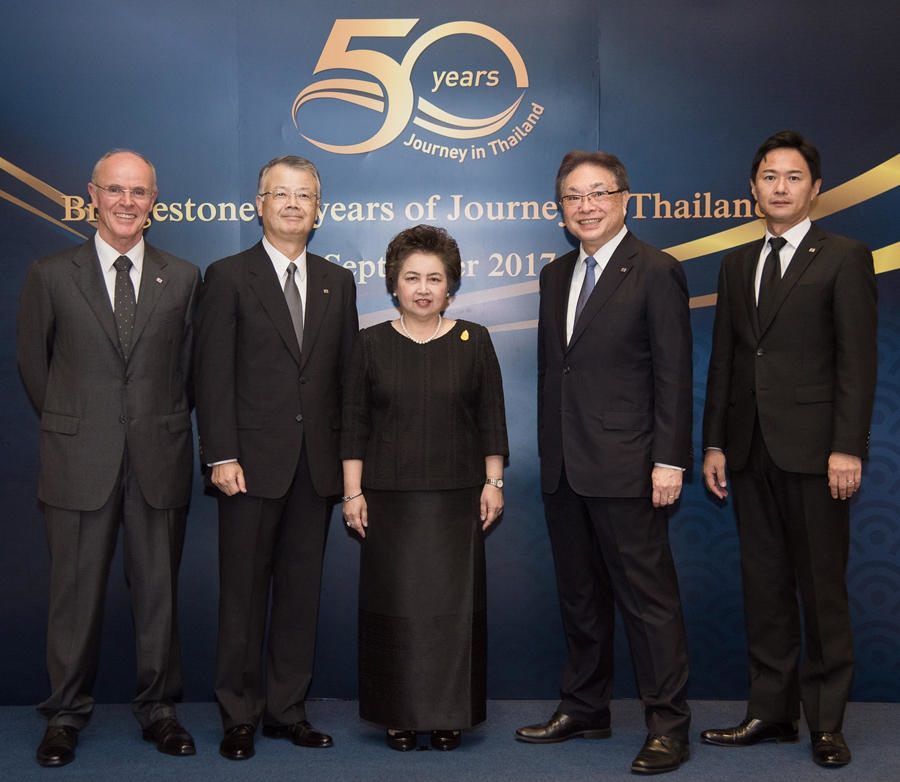 In 1967, Thai Bridgestone Co., Ltd., was established as the Bridgestone Group's first full-fledged operating base in Thailand. Today, the Group owns and operates four tire factories, five raw material and equipment-related factories, two diversified product factories and other production bases in this country. The Bridgestone Asia Pacific Technical Center Co., Ltd., also based in Thailand, is the center for the research and development of tires for the Asia and Pacific region. With these bases as well as a wide-reaching, directly-operated tire retail network, the Group's operations in Thailand span the entire value chain.

Additionally, Bridgestone announced plans to construct two aircraft tire solutions business bases in Thailand on December 22, 2016.* One base will be located in Rayong Province and will produce new aircraft tires, while the second base will be located in Chonburi Province and will produce retread aircraft tires. The Bridgestone Group's aircraft tire solutions business is focused on combining products and services to deliver solutions that will help customers achieve their goals. By leveraging the Company's strengths to create innovation, the Group aims to contribute to economic and industrial development in Thailand.

Bridgestone also sponsors youth education programs and provides aid for reconstruction from floods and other natural disasters through its business activities. The Group is committed to offering ongoing support for local communities as a responsible member of society in Thailand.

The Bridgestone Group continues to contribute to the realization of a sustainable society and the resolution of social issues in Thailand and all other countries and regions. The Group aims to act as a responsible corporate citizen. As an industry leader, the Bridgestone Group has a responsibility for the future. The Group seeks to fulfill this responsibility by leveraging its strengths and specialties, and creating innovation and advanced technologies to help deliver higher levels of comfort as people move, live, work and have fun.

* Bridgestone to Build New Aircraft Tire Solutions Bases in Thailand (News release issued on December 22, 2016)
---
About Bridgestone Corporation:
Bridgestone Corporation, headquartered in Tokyo, is the world's largest tire and rubber company. In addition to tires for use in a wide variety of applications, it also manufactures a broad range of diversified products, which include industrial rubber and chemical products and sporting goods. Its products are sold in over 150 nations and territories around the world.