Bridgestone Anti-Vibration Rubber in 2016 Toyota Prius
Engine Mount Anti-Vibration Rubber Contributes to Comfortable Driving Experience
Tokyo (February 10, 2016) - Bridgestone Corporation (Bridgestone) today announced that it supplied an anti-vibration rubber part for engine mount use in the Toyota Motor Corporation's new Prius hybrid vehicle, which was launched in Japan on December 12, 2015, and is slated for subsequent release in Europe and the United States. Bridgestone's anti-vibration rubber part absorbs engine vibration and also reduces oscillations through horizontal centrifugal force during cornering, which promotes vehicle stability and creates a more comfortable vehicle driving experience. The Bridgestone anti-vibration rubber part will play a vital role in helping Toyota achieve the "fun-to-drive" experience and the "driving comfort" the new Prius seeks to offer drivers.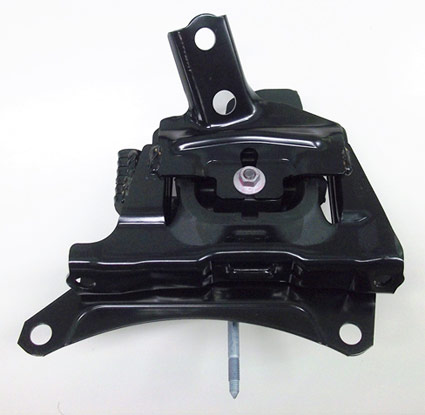 The engine mount is a unique part that connects the power source for the vehicle with the vehicle frame. Not only does it support the engine, it also absorbs the vibrations generated by the engine, reducing vibrations of the vehicle frame and vibrations felt inside the vehicle. Front, rear, and vertical flexibility are necessary in order to absorb vibrations from the engine, as well as vibrations caused by uneven road surface and acceleration and deceleration. By laterally installing a column-shaped rubber in the center of the part, Bridgestone succeeded in increasing front, rear, and vertical flexibility. Through this technological achievement, the anti-vibration rubber part can improve driving comfort while contributing to smooth handling during cornering.

As the world's leading tire and rubber company Bridgestone continues to apply advanced technical capabilities and materials to support the world's mobility needs.
---
About Bridgestone Corporation:
Bridgestone Corporation, headquartered in Tokyo, is the world's largest tire and rubber company. In addition to tires for use in a wide variety of applications, it also manufactures a broad range of diversified products, which include industrial rubber and chemical products and sporting goods. Its products are sold in over 150 nations and territories around the world.